DNASTAR Cloud
Utilize our cloud computing resources to align and assemble your NGS data, and free up your local computer to do other things.
DNASTAR Cloud
Performing large scale NGS alignments or de novo sequence assemblies on your laptop or desktop computer can often be a challenge due to insufficient hard disk space or memory. Sometimes more computing power is needed to manage your data and complete assemblies successfully.
That's why we offer DNASTAR Cloud Data Drive for NGS data storage and management, and DNASTAR Cloud Assemblies, which utilizes our cloud computing resources to align and assemble your NGS data, freeing up your local computer to do other things.
Every free trial and purchase of Lasergene Genomics includes DNASTAR Cloud Data Drive and five free DNASTAR Cloud Assemblies.
UNIVERSITIES TRUST DNASTAR
BIOTECH AND PHARMA COMPANIES RELY ON DNASTAR
JOURNAL CITATIONS OF DNASTAR
Workflows Supported by DNASTAR Cloud
Resources
Please see our resources below for more information on DNASTAR Cloud.
FAQs
How do I access DNASTAR Cloud Assemblies from SeqMan NGen?
To run assemblies on the cloud, you need to log into your account from within SeqMan NGen by clicking the key in the bottom left corner. Your username is the email address you used to purchase or download a free trial. If you've forgotten your password, you can reset it from the login page.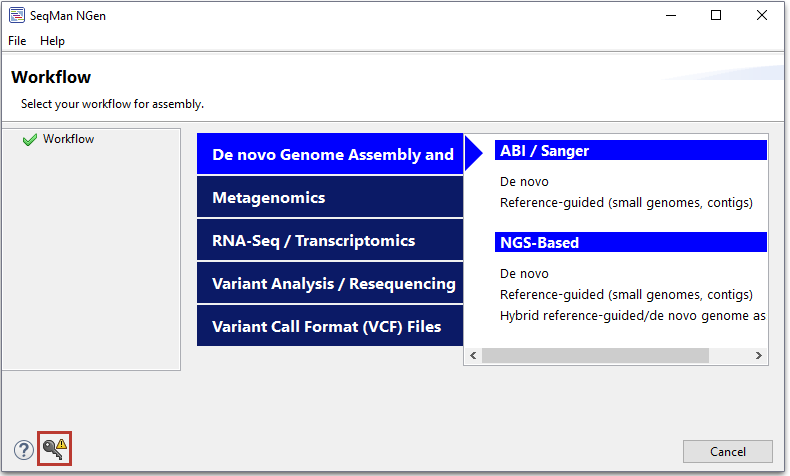 How do I know if my computer has enough disk space or memory to successfully run an assembly?
SeqMan NGen automatically analyzes your input data and hardware when you set up your project and lets you know if your system can handle the assembly locally, or if you should run it on the cloud.


What is DNASTAR Cloud Data Drive?
DNASTAR Cloud Data Drive is a secure service that enables you to quickly upload, download, and manage all of your NGS data on the Cloud, saving you time and disk space. For cloud file transfer and for primary or back-up storage of genomic data, the DNASTAR Cloud Data Drive is an economical, rapid-response NGS data storage solution.
DNASTAR Cloud Data Drive is included with every DNASTAR software license and can be accessed through DNASTAR Navigator.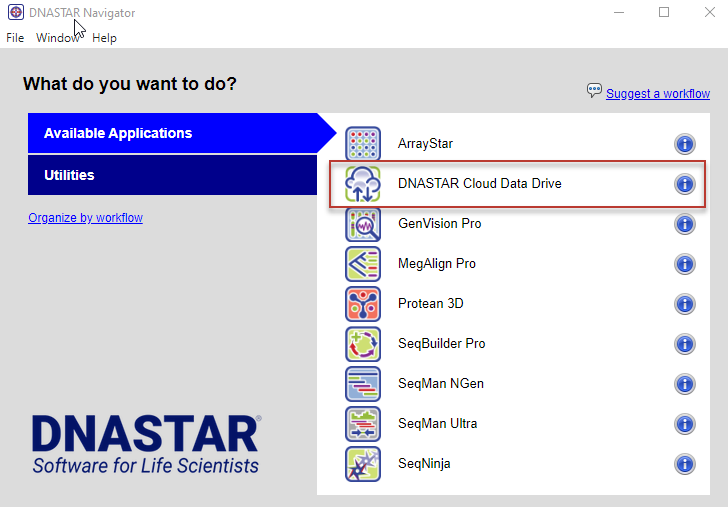 I've used the cloud assemblies that were included with my license – how can I get more?
If you have used all of the cloud assemblies that were included with your license, additional assemblies are available to purchase online, with pricing available for both academic/government institutes and commercial organizations.
How can I monitor the progress of my cloud assemblies?
You can open, pause, cancel, and check the progress of all of your cloud assemblies from two places:
The Cloud Monitor in SeqMan NGen. Access the Cloud Monitor by launching SeqMan NGen, and clicking on Manage Cloud Assemblies.

The Jobs panel in SeqMan Ultra.

How do I know that my data is secure using DNASTAR Cloud?
Cloud computing, by its nature, raises concerns about potential security issues. Data security has always been one of DNASTAR's highest priorities, which is why we have implemented a secure Cloud framework that keeps our users' data and results safe.
DNASTAR uses Amazon Web Services (AWS) as the supporting infrastructure for all our DNASTAR Cloud software applications. AWS's world-class, highly protected data centers utilize state-of-the-art security monitoring and multi-factor access control systems.
The AWS virtual infrastructure has been designed to provide optimum availability while ensuring complete customer privacy and data segregation. AWS has met numerous federal and private security certification requirements, including FedRAMP*. The document below explains, in detail, how DNASTAR builds on the AWS framework to keep your data private and safe, from initial Cloud communications to long-term results storage.
If you have further questions about the security of DNASTAR's Cloud-based applications, please contact our technical support team.
* For a complete list of AWS Compliance certifications, including the United States Department of Health and Human Services' Agency Authority to Operate under the Federal Risk and Authorization Management Program (FedRAMP) see https://aws.amazon.com/compliance.
For further information, see DNASTAR Cloud Security.
Compare DNASTAR Lasergene Packages
MOST POPULAR

DNASTAR Lasergene
Lasergene Molecular Biology
Lasergene Genomics
Lasergene Protein
Included Applications
SeqBuilder Pro
SeqMan Ultra
MegAlign Pro
GeneQuest
GenVision
SeqNinja
SeqMan NGen
ArrayStar
GenVision Pro
Protean 3D
(+1 prediction per Nova Application)
DNASTAR Navigator
Supported Workflows
Antibody Phage Display
Automated Virtual Cloning
Clone Sequence Verification
Gel Electrophoresis Simulation
Mauve Genome Alignment
Multiple Sequence Alignment
Pairwise Sequence Alignment
PCR Primer Design
PCR Site-Directed Mutagenesis
Phylogenetic Analysis
Plasmid Maps
Sequence Editing and Annotation
Sanger Sequence Assembly
ChIP-Seq Data Analysis
Clinical Research
De Novo Transcriptome Assembly
Large Scale Variant Analysis
Metagenomic Assembly
NGS De Novo Genome Assembly
RNA-Seq Alignment
Viral Genome Analysis
Whole Exome/Genome Sequencing
Antibody Modeling
Epitope Prediction
Protein Docking
Protein Sequence Analysis
Protein Stability Prediction
Protein Structural Alignment
Protein Structure Analysis
Protein Structure Prediction
Integrates with
DNASTAR Cloud Data Drive
DNASTAR Cloud Assemblies
NovaDock
NovaFold
NovaFold Antibody
Pricing
Annual pricing starting at:

$599/year
See Pricing

$1,499/year
See Pricing

$799/year
See Pricing

$2,399/year
See Pricing